Vietnamese Street Food Restaurant Group Pho Launches New Vegan Menu With Award-Winning UK Plant Based "Meat" Brand THIS™

From hyper realistic plant-based chicken to prawn-less vegan prawn crackers…
Now more than 40% of Pho's offer is plant-based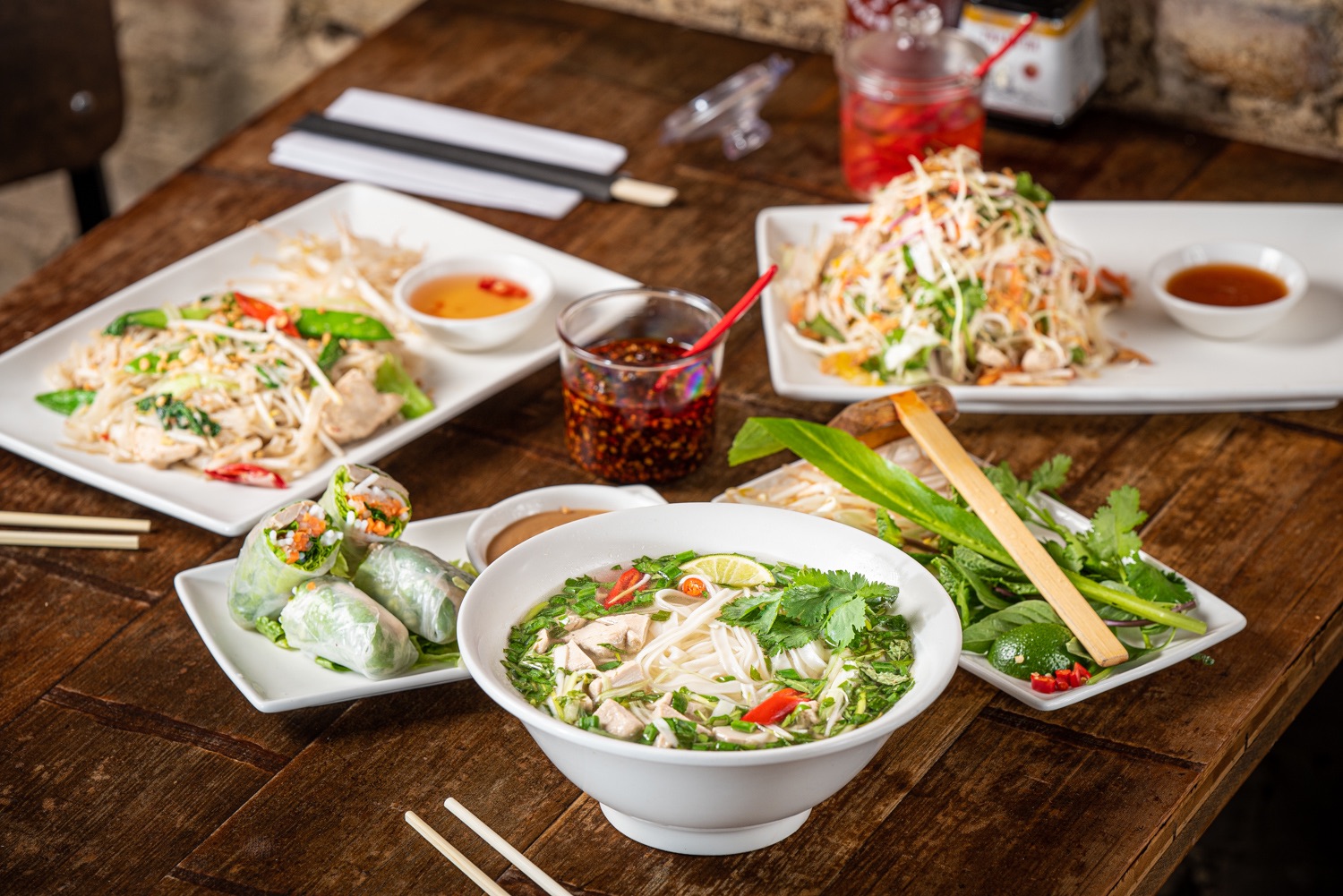 Pho, the Vietnamese street food restaurant with 29 branches across the UK, will launch a new vegan menu on 1st January 2020, with award-winning plant-based innovators, UK brand THIS™, with an amazing meat-free product that smells, feels and tastes just like chicken.  
Adding 12 new vegan dishes for Veganuary, the restaurant will be using THIS™ Isn't Chicken in starters, salads, noodle soups, rice bowls, curries and wok-fried rice.
The addition of THIS™ Isn't Chicken takes the restaurant's vegan offering from about 25% to 40% giving more choice to both vegans and meat-eaters looking for a high protein alternative. All of the new dishes are also gluten free, and Pho is accredited by Coeliac UK.  
Also new on the menu will be "prawn-less" vegan prawn crackers and a vegan version of the traditional Vietnamese sauce Nuoc Cham.
The new vegan menu will be available in all 29 Pho restaurants across the UK – (see locations and opening times via www.phocafe.co.uk).
Juliette Wall, Co-Founder of Pho: "Our menu has been more than a quarter vegan for years now, and as we started to test new plant-based products to enhance our offer for 'Veganuary' we were blown away by THIS. It tastes delicious and works in so many of our dishes - we think our customers are going to love it (and won't even miss chicken!)". 
Andy Shovel, Co-Founder of THIS™: "When we created the products, the goal was to make them as versatile as possible so that they can be used in place of the real thing without compromising on flavour, texture & appearance. Our partnership with Pho is the perfect way to branch out into another cuisine and push the boundaries of what is possible with plant-based meat alternatives. They're a really exciting restaurant brand and they've created some wicked dishes with THIS that meat-eaters will love."
About Pho:



Pho is the only national Vietnamese restaurant group, run by Stephen and Juliette Wall, with 29 branches across the UK.  




Pho opened its first restaurant in Clerkenwell in 2005.




Pho specialises in the national dish of Vietnam (pho) a nutritious and delicious rice noodle soup with homemade broths that take more than 12 hours to prepare. 



Award-winning Vegan Chicken
THIS™ Isn't Chicken recently won a coveted PETA award for "Best Vegan Chicken". The products mimic meat in taste, texture, appearance and even smell. Peas and soya beans are used as the base. The products contain more protein than lentils, tofu, seitan, tempeh and most actual meats. They are high in Iron & Vitamin B12, are nitrate-free and GMO free.


Ridiculously high in protein– THIS™ packs more protein than: lentils, tofu, seitan, tempeh, most actual cuts of meat and pretty much all vegetables


Fortified with Iron & Vitamin B12


Antibiotic-free and GMO-free


Has minimal CO2 emissions in production vs. meat: 
For example, chicken produces 20kg of CO2 emissions per kg of food produced, whilst THIS™ produces 2.4kg


Has significantly less water consumption, standing at 121L per kg, compared to 930L for chicken





THIS™ challenges legacy "plant-based meat" brands by targeting meat-reducers as opposed to purely vegans. With a core belief that meat-eaters shouldn't have to compromise if they want to cut down on meat, the brand is bold, modern, & rebellious – without making judgement on consumers' eating habits




After launching in June 2019, THIS™ is now both one of the fastest growing brands in its category and in the entire food product sector, growing in revenue by 30-40% month on month for the last three months.




Meat lovers, Andy Shovel and Pete Sharman co-founded and successfully exited beef burger chain Chosen Bun before starting THIS™. They channelled their in-depth knowledge of meat to create the most realistic chicken and bacon meat-alternatives in the world. 




Following two years of research and development, partnering with world-leading texture scientists and flavourists, THIS™ mimics meat in taste, texture, appearance and smell, but without the ethical or environmental impact, instead of using peas and soya beans as the base. Only the products that can truly fool a carnivore into thinking they're eating meat make the final cut.